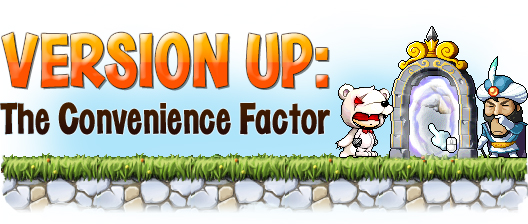 Hello Maplers!
Itís time again for a version up and this time itís all about convenience! Check out the changes that should help you travel quicker, manage better and clean up your gameplay.
Improved Quick Slot
The Quick Slot is the box found on the bottom right corner of your screen. It contains six convenient hotkeys that allow you to use a skill, item, or function just by hitting the key. Weíve made this function even more powerful by now allowing you to determine which keys should be in the Quick Slot.
This will not only cut down on the number of times you have to open your keyboard settings to reset your hotkeys for different activities, but should be a blessing for lefties and those who use non-traditional keyboard settings!
Dimensional Mirror
MapleStory is full of fun places to explore, but sometimes getting there was less fun than being there. Now getting there is easier with the new Dimensional Mirror!
The Dimensional Mirrors will allow you to quickly travel to: Ariant Battle Arena, Mu Lung Dojo, Monster Carnival 1, Monster Carnival 2, Nettís Pyramid, and Abandoned Subway.
Say goodbye to Cesar and the Mu Lung Dojo Bulletin Board! Now you just need to click on Dimensional Mirror located in every major town.
Keep in mind that the Dimensional Mirror isnít a shortcut to high-level areas. If you donít meet the level requirement, it wonít allow you to travel there.
Improved Inventory UI
If youíve been playing MapleStory for awhile, you know that you can collect a lot of stuff. Itís little wonder then that your newest acquisitions can sometimes get lost in your inventory. With our new and improved inventory graphics, though, youíll never lose track of your new items again. When you acquire a new item, the inventory tab itís been put in will blink and the new item will have a flashing border around it.
Episode One: Now Open to Everyone!

Explorer players had a great reaction to the release of Episode One. It made the first job advancement even more fun for Explorers. In fact, the reaction was so strong, weíve decided to open the fun up to everybody. Now every class can participate in the events of Episode One on the occasion of their first job advancement.
Some changes youíll notice if youíre an Explorer whoís tried Episode One:
- The level limit for the quests that the Job Advancement Officers give to start Episode One is now 40 and not 30.
- New Astarothís Polearm available.
- Bug fix! The Warrior quest ďDrought in Perion-Inspecting the Water Pipe,Ē now has a Fire Hydrant regenerating in the Construction Site north of Kerning City.
- Bug fix! Pirates, if you no longer need the Dirty Treasure Map item in order to play Episode One, find the NPC Jack at Top Floor Ė Hallway. He will throw away the item for you.
Now level up and have fun!
- Maple Team -